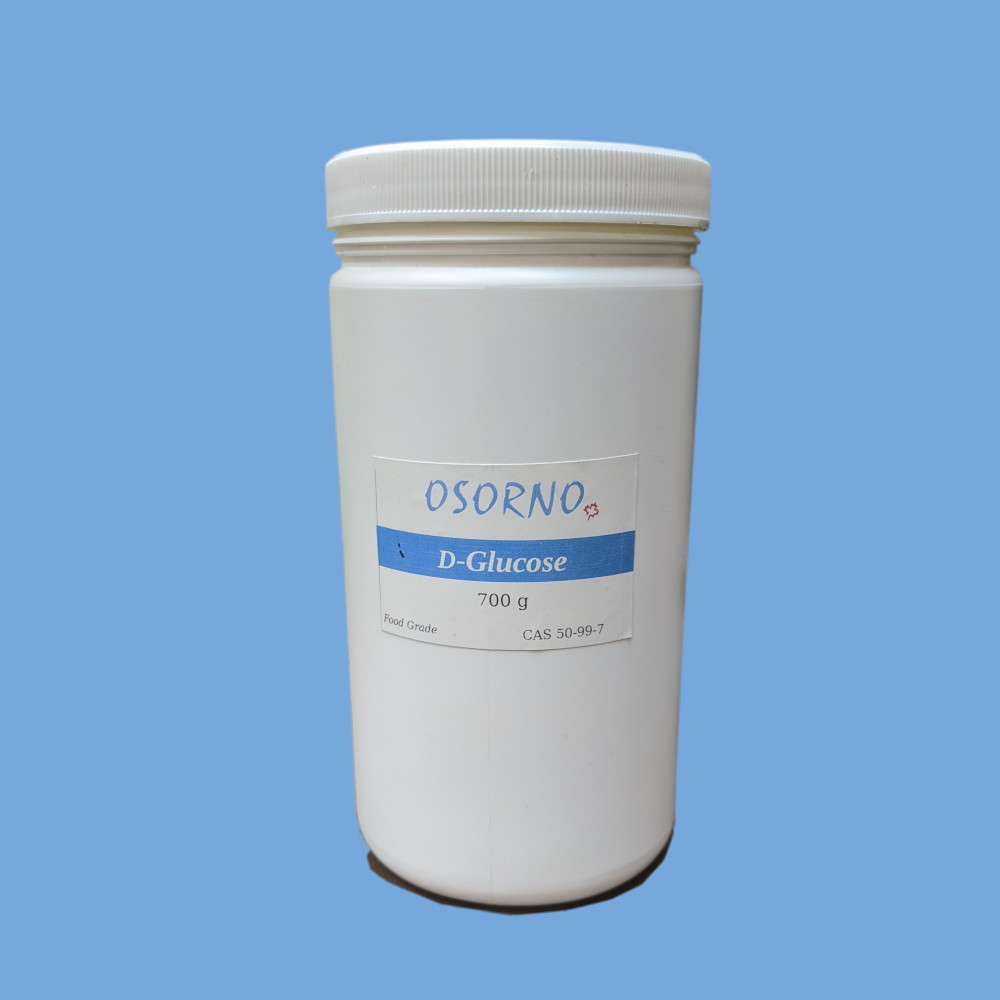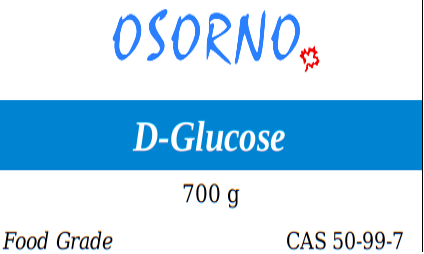 Glucose
Glucose: A natural sugar with a sweetness factor of 0.6, glucose ferments very easily, and therefore should be available to yeast in a sufficient quantity at the beginning of the fermentation process. Glucose is a fine crystalline powder, sold by Osorno in 700 g jars. To purchase Glucose, please visit Osorno Store.
Glucose is the most abundant monosaccharide. The naturally occurring form of glucose is D-glucose, while L-glucose is produced synthetically. Natural glucose is also called dextrose because it as an optically active compound that is dextrorotatory, as such it belongs to the D family (the terms "optical isomer", "asymmetric carbon atom", and "chiral compound" are roughly equivalent, although not in a strict chemical sense). One can find it sometimes described as D-glucose, which is the same as glucose. Its name is derived from the Greek word γλυκός (glykós), which means "sweet," that in turn was derived from γλεύκος (gléfkos), which means "must" (as in fruit juice, or more specifically, wine). The word dextrose is derived from Latin dexter, meaning "right", this is due to its lineage in chilarity optically active. L-glucose cannot be found in nature, it must be synthesized. Theoretically, this would be the ideal sweetener for diabetics, because it does not increase the blood glucose level. However, its price is higher than the price of gold.
Both starch and cellulose are polysaccharides that use glucose as monosaccharide building blocks. Theoretically (and practically) both polysaccharides can be deconstructed into glucose; the starch of grains and potatoes is converted to glucose, fermented, and distilled into vodka on a large scale, and the conversion of cellulose to glucose has gained popularity in the production of bio-alcohol, to the degree that it is highly subsidized in the US, and to a lesser extent in some other countries.
Industrially, glucose is produced on a large scale, because it is used widely as a starting material in numerous industrial processes, ranging from vitamin C production to detergent reagents, food additives, as a hydrophilization reagent, for the production of fuel-grade ethanol, and a myriad of other diverse applications that are not solely tied to food production as many would likely expect. In North America, it is almost exclusively produced out of corn starch. This first yields corn syrup, containing almost exclusively glucose. This syrup has less than 5% fructose content. Glucose crystallizes with less of a problem than most sugars, as a result it is commercially available as a white crystalline power, a colourless or slightly yellowish syrup, and as off-white dried glucose syrup, consisting of a mixture of crystalline glucose, amorphous glucose, and residual fructose. Glucose syrup is commercially produced to customer specification, which means that there are no standardized concentrations for sale.