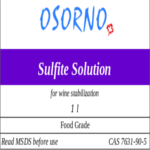 Osorno's Sulfite Solution replaces Campden tablets. 1 ml is used for 1 litre wine, producing 50 mg/l sulfur dioxide.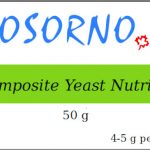 Yeast Nutrient
Osorno's Composite Yeast Nutrient is a blend of several food-grade substances for optimal yeast development. We sell Composite Yeast Nutrient in 50 g jars.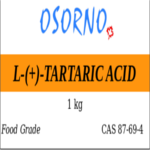 Tartaric Acid
Tartaric acid is the main acid in grapes, and is the best acid for winemaking. Osorno sells tartaric acid as a crystalline product in 1 kg jars.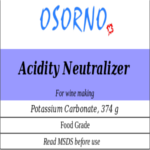 Acidity Neutralizer
Acidity Neutralizer is a buffer mix that neutralizes excessive acidity during any stage of winemaking. Acidity Neutralizer is a powder, sold in 374 g jars.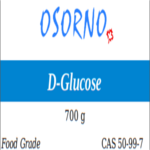 Glucose
Glucose is a natural sugar ideal for starting the fermentation process.
Osorno sells glucose as a fine crystalline powder in 700 g jars.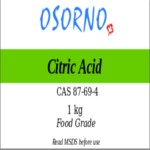 Citric Acid
Osorno produces food-grade citric acid for winemaking.  Winemakers value citric acid for its sour flavour and ability to act as a pH buffer. However, it can impart a sharp acidic taste. Osorno sells citric acid as a fine crystalline powder in 1 kg jars.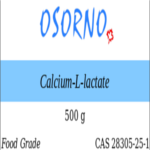 Calcium Lactate
Calcium lactate removes harmful concentrations of oxalic acid from fruit wines (which is particularly important for making rhubarb wine).
We sell calcium lactate in 500 g jars.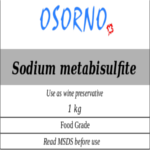 Sodium Metabisulfite
Sodium metabisulfite is used to stabilize wine after fermentation. Be careful when using sodium metabisulfite because the concentration of sulfur dioxide can easily become overwhelming.  We sell sodium metabisulfite as a powder in 1 kg jars.
Purchase these winemaking additives from our store today. We provide high-quality certified chemical additives to make the best tasting wine. 
Visit Us
976 Elgin Ave
Winnipeg, MB R3E 1B4
Call Us
+1 204 488-1538 (Phone)
+1 204 488-1566 (Fax)
Email Us
winecellar@osorno.ca